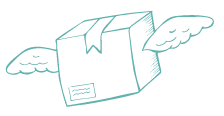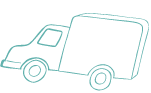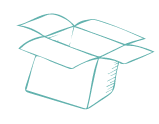 Why join Online High Street?
Online High Street is the fastest growing marketplace for independent businesses who wish to sell their products both locally and nationally.
---






"I have had a looooaaaddd of new followers!
Thank you for introducing them to my small business."
Jen - The Cambridge Soap Company
Ka-Ching
You receive a new order and package it up for delivery.
Knock-Knock
We collect all orders directly from your door.
Tick-Tock
After you have received your first order, repeat this process and it will feel like clockwork!
FAQ
One of the advantages of our platform is that we welcome businesses of all types, including those who do not have a physical storefront. Whether you operate from home or sell from a market stall, you are more than welcome to join Online High Street. Our delivery couriers can collect orders from your location, making it easy for you to sell your products and reach a wider audience.
We believe that all businesses, big or small, should have the opportunity to showcase their products on our platform, and we are committed to helping you succeed.
When a customer shops with Online High Street, they will be charged a flat-rate delivery fee for each store they order from, starting at just £7.95 per store for both local and national orders. To find out more about delivery costs Click Here.
We make weekly payouts on Fridays directly to your bank account for all orders made in the previous week. The Store Dashboard provides stores with an overview of all payouts for your orders. You can easily access and download invoices and export orders received for the week's payouts. This feature provides an organised and efficient way for stores to keep track of their finances and manage their payouts seamlessly.
Yes you can choose whether you offer delivery, collection or both. We are pleased to offer all stores the option to provide their customers with a convenient Click & Collect service. This service is completely free for all stores to utilise, and it encourages customers to collect their orders themselves, thereby avoiding any delivery fees. By offering this service, stores can provide their customers with a more flexible and cost-effective way to receive their purchases, while also increasing foot traffic to their physical locations.
No problem! We offer a bulk uploader option that enables you to download a template with instructions on how to format your products.
Alternatively, if you already have an existing website or POS system, you can share an export of your products with us as a .XLSX, .XLS or .CSV file, and we will upload your products for you.